Unter dem Motto "Echos" schlagen Studierende des Instituts für Aufführungspraxis und des Studiengangs Musikdesign multimediale Brücken zwischen Vergangenheit und Gegenwart – als Widerklang einer lange vergangenen Zeit, die mit ihren alten Menschenbildern und ihrer eigenen Ästhetik im Spiegelsaal des Museums Art.Plus inmitten aktueller Kunst auf moderne MusikerInnen und zeitgenössische Technik trifft.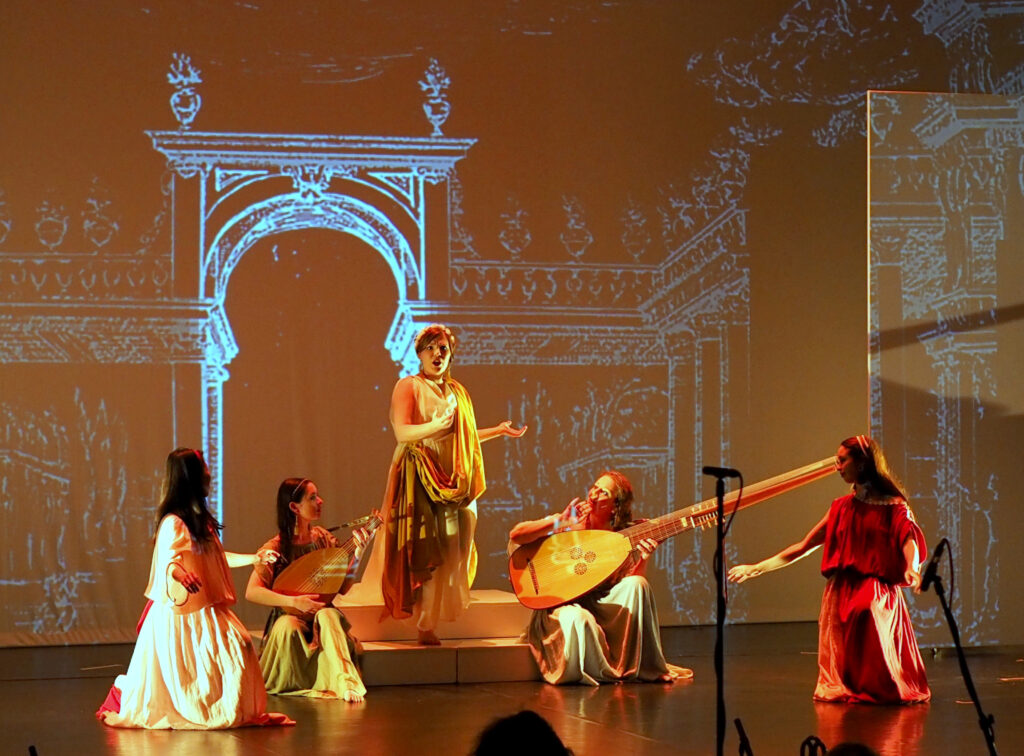 "Echoes of Muses" eröffnet den Blick auf die Metamorphose der Frauen von Musen zu Künstlerinnen. Das Publikum ist eingeladen, sich mit den aufführenden Künstlerinnen auf eine musikalische Reise voller Kraft und Leidenschaft vom Mittelalter bis zum Barock zu begeben – und dies nicht nur musikalisch, sondern auch szenisch mit Barockgestik und sogar Barocktanz.
Der zweite Teil des Konzerts bietet einen faszinierenden, multimedialen Blick auf die sogenannte Venezianische Schule. Was hätten die alten Meister des 16. und 17. Jahrhunderts mit einem modernen 24-Kanal Surroundsystem gemacht? "Echoes of Venice" verarbeitet Aufnahmen von Werken von Gabrieli und Willaert zu zeitgenössischen Klangflächenkompositionen, mit denen Live-Performances für Laute und Elektronik interagieren.
Kosten: 15 Euro (Kartenreservierung über 0771.896689-0 oder info@museum-art-plus.com)
Einlass: ab 18.30 Uhr
Vor Konzertbeginn besteht die Möglichkeit zum Besuch der Ausstellung "Tierisch gut - Paradise reloaded".
Hinweis: Wir fotografieren während der Veranstaltung zum Zweck der Veröffentlichung auf unserer Webseite www.museum-art-plus.com und unseren Social Media Kanälen Facebook und Instagram. Mit Ihrer Teilnahme an der Veranstaltung erklären Sie sich mit der Veröffentlichung von Fotos einverstanden, auf denen auch Sie abgebildet sind. Wenn Sie das nicht möchten, teilen Sie das bitte unserem Fotografen oder unseren Mitarbeitern mit.
Weitere Infos folgen in Kürze.
Theme Music Live
"Landscape with Ensembles"
The German musical landscape is home to over 150 ensembles specializing in contemporary music. And they are responsible for far more than 95% of the world premieres each year. In a wide variety of formations, mostly with international members, they have long taken on many of the tasks that symphony orchestras performed in the 19th century: making the aesthetic statements of today's composers audible reality. This is only possible through first-class mastery of the respective sound tools and the tireless willingness to embrace the unknown. Performers of contemporary music must also be able to speak, sing,
dance and act. Our ensembles achieve all this and more – far from pecuniary assurances.
Lena Krause, Managing Director FREO
Iris ter Schiphorst, composer
Clemens K. Thomas, Artistic Director of ensemble recherche
Dietmar Wiesner, flutist and co-founder of the Ensemble Modern
Stefan Fricke, moderator
A co-production of BR-KLASSIK, SWR2 and hr2-kultur
Our opening hours during the Music Days: Thu 6pm-8pm : Fri-Sun 11am-5pm
Enter into dialogue with the artist Reiner Seliger and learn more about the artist, who comes from Löwenberg (Silesia) and now lives in Freiburg and Italy.
After the tour, you are welcome to continue the exchange with the artist over a glass of sparkling wine in our foyer.
Full price: 5 euros
Please register in advance: Tel. 0771.896689-0 or info@museum-art-plus.com.
Note: We will take photographs during the event for the purpose of publication on our website www.museum-art-plus.com and our social media channels Facebook and Instagram. By attending the event, you consent to the publication of photographs that include you. If you do not want this, please let our photographer or our staff know.
The Source of the Danube has moved! An installation for the young Danube by Michael von Brentano
14.07.2013 – 18.01.2015, Mirror Hall
At the heart of much of Michael von Brentano's works is the way we see and understand nature. Do we perceive a landscape as it is or as we imagine it to be? Preparing his installation on the source of the Danube, the artist was thus particularly intrigued by the myths surrounding the fabled source of the river. 'What really counts and what is important to me,' he explains in conversation, 'is that Emperor Tiberius declared the spring rising close to the present-day church of Saint John the Baptist as the source of the Danube. This allows us to conceptualise the origin of a river as imposing and historically important as the Danube.
The final work, however, draws on yet another myth that von Bretano came across in his preparatory reading. According to this myth, there is a farmhouse in the Black Forest whose roof acts as a watershed. Rain running down one side ends up in the Rhine, while the runoff on other side flows into the Danube. 'The story of the raindrops struck me as so poetic that I just had to pick up on it. There is a long tradition of representing the major rivers as female figures. I wanted to find a new allegory. My Danube will be a female dancer,' the artist reveals.
Two films are projected onto an oval on the floor of Museum Biedermann's darkened hall of mirrors. They show a bird's eye view of a water droplet becoming rain and then a dancer gliding in and out of the image in circling movements. The second film presents the same scene, synchronous but left-right inverted, so that each movement in and out of the image is mirrored by its exact opposite.
The two projections are complemented by a large funnel-shaped wooden object painted in a light grey and containing a water basin and a photograph. 'Visitors looking into the funnel will see the spring, and, who knows, perhaps they can throw in a coin and hear it make splash as it hits the water,' he says with a smile.

For about two years visitors can enjoy a highly poetic installation that allows them to experience the source of the Danube as a unique artistic project in the Museum Biedermann hall of mirrors.
View video The Source of the Danube has moved! An installation for the young Danube by Michael von Brentano
The project is supported by the Sparkasse Schwarzwald Baar and the city of Donaueschingen:
Die aus Stuttgart stammende Formation hat sich an die Spitze der europäischen Sinti-Jazzer gespielt und tritt mit zahlreichen Konzerten und Tourneen weltweit auf. Mittlerweile ist ihre fünfte Album-Produktion "10 Years – A Trio's Decade" erschienen, die bei den Wurzeln des Gypsy-Swings beginnt, Ausflüge in Klassik, Pop und Folk-Musik wagt und dabei doch ganz eigene Wege geht.
Künstlerischer Impulsgeber ist der 1992 in Stuttgart geborene Gitarrist und Komponist Gismo Graf, der mit zwölf Jahren die ersten Auftritte in der Band seines Vaters absolvierte und im Herbst 2010 das Gismo Graf Trio, kurz: GGT gründete. Bereits der erste Auftritt fand in ausverkauftem Konzertsaal statt. Die sich anschließende Tour "Absolutely Gypsy" entwickelte sich regelrecht zum Hype.
Gismo überzeugt durch technische Perfektion, Charisma und Charme und führt zudem die Tradition fort, die ihm Joschi Graf – Gismos Vater, Mentor und Ensemblemitstreiter – in die Wiege gelegt hat: die mitreißende Spielart im Geiste des großen Django Reinhardt. Gismo Graf ist einer der jungen Wilden, die mit feinfühligem Respekt vor der Vergangenheit dem Gypsy Jazz ein zeitgemäßes Gesicht geben. Durch seine innovative Spielart vereinigt er scheinbar spielerisch Jazz, Pop, Swing und Bossa Nova mit ausdrucksstarken Eigenkompositionen und trifft somit den zeitgenössischen Geschmack.
Gismo Graf Trio
Gismo Graf, Gitarre
Joschi Graf, Gitarre & Gesang
Joel Locher, Kontrabass
Kosten: Tickets sind für 25,00 € erhältlich bei der Tourist-Information, Karlstraße 58, Tel. 0771 857-221.
Hygieneregeln: Das Tragen einer FFP2 Maske wird empfohlen.
Diese Veranstaltung ist rollstuhlgerecht
Diese Veranstaltung findet bei jedem Wetter statt
Veranstalter: Gesellschaft der Musikfreunde e.V.
Award of the FEM pin of the German Composers' Association to Jeunesses Musicales for the national competition Jugend komponiert.
The FEM needle honors personalities who have made an exemplary contribution to the cause of contemporary music. With this, the FEM wants to inspire cultural-political, social and artistic engagement, as demonstrated by those honored with the needle.
Our opening hours during the Music Days: Thu 6pm-8pm : Fri-Sun 11am-5pm
Note: We will take photos during the event for the purpose of publication on our website www.museum-art-plus.com and our social media channels Facebook and Instagram. By participating in the event, you agree to the publication of photos in which you are also pictured. If you do not want this, please let our photographer or our staff know.